Madrid, Day 1. Visit at the Prado. Madrid, giorno 1, visita al Prado.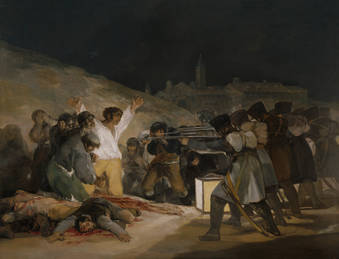 "Representación de los fusilamientos de patriotas de Madrid por el ejército de Napoleón, como represalia al levantamiento del 2 de mayo de 1808 contra la ocupación francesa. Los soldados franceses, de espaldas a la derecha de la composición, apuntan a los madrileños que han de morir. El dramatismo y la tensión de la escena quedan subrayados por el uso de la luz, que ilumina fuertemente a los héroes permitiendo diferenciar sus caracteres y actitudes en un detallado estudio psicológico de los personajes." Goya. From the Prado website.
I should confess to not thinking so much about the analogy between Germany and the rest of Europe when looking at the French occupying forces putting to death Spanish innocents. No.
Non pensavo ad un raffronto tra Germania e resto d'Europa quando guardavo all'esecuzione degli spagnoli ribelli ed innocenti da parte degli occupanti francesi.
I was rather thinking, looking at the "invisible and all looking alike faces" (how is this possible? the miracle of Goya!) of those who kill and at the desperation of those put to death, at those modern burocratic mechanisms of impositions on simpler people by a distant power. Or maybe I was thinking to a recession for which there is no empathy in the response but only cold measures.
Piuttosto guardavo a quelle facce "invisibili e tutte uguali" (come è possibile? miracolo di Goya!) dei tiratori scelti ed alla disperazione di coloro che sono destinati a morire e mi chiedevo se mi ricordassero in qualche modo la recessione e le sue ferite da una parte e le fredde risposte del vertice europeo dall'altra.
Somehow no, but the danger is there.
Forse no, ma il pericolo è dietro l'angolo.