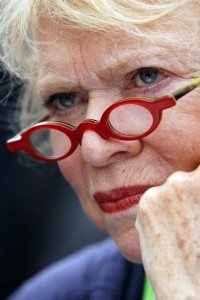 Oscillava tra il 4 e 6% nelle intenzioni di voto a dicembre, ma oggi è calata al 2 o 3%, la candidata verde alle elezioni presidenziali francesi del prossimo 22 aprile, Eva Joly. Magistrato francese che ha passato i suoi primi 20 anni in Norvegia, dove ha forse acquisito nel suo DNA la strenua avversione contro la corruzione. Non vincerà ma ci piace leggere che nel suo programma c'è la proposta di riservare le gare di appalto pubblico sotto soglia (50-70.000 euro) alle piccole imprese e l'insoddisfazione per uno Small Business Act europeo che è la pallida sbiadita copia di quello targato Usa. Almeno non è catturata dagli interessi della grande impresa come la Commissione Europea che da anni si rifiuta di riservare quote di appalti alle piccole.
Vive la France.
Eva Joly, the soon to be losing candidate for the Green Party in the coming April French elections for President proposed to shift to a serious Small Business Act like the one enacted since 1953 in the United States. She also proposes that all public tenders below a 50-70 thousand euro threshold  be reserved to Small and Medium firms. In fact, she is in favor of competition while the European Commission, that still pretends it acts fairly when it claims that large and small firms have an equal chance in procurement, is captured by the lobby of large firms.
She might lose, but we like her tough fight on issues like this one, so critical for Europe.
Grazie Marta.