Sotto troverete il testo del comunicato con cui il Presidente della Banca Mondiale Jim Kim ha annunciato la nomina a Chief of Staff  del Presidente di Laura Frigenti, cittadina italiana.
Alla Banca Mondiale dal 1994, con una lunga e bella carriera di esperienza internazionale sul campo, alla Dott.ssa Frigenti (che non conosco) vanno i nostri vivissimi complimenti, ed un augurio per tante altre soddisfazioni. L'Italia può dirsi orgogliosa di questa nomina.
Laura Frigenti has been named Chief of Staff of World Bank President Jim Kim (see below his communiqué). Italy is proud! Our warmest congratulations to Dr. Frigenti.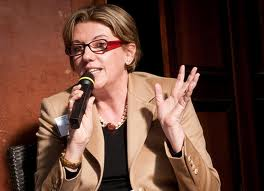 I  am pleased to announce the appointment of Laura Frigenti as my Chief of Staff/ Director of the Office of the President. Laura, an Italian national, is currently Director for Strategy and Operations in the Africa Region.
Since joining the Bank in 1994, Laura has held several positions including Lead Specialist for Social Protection in the Africa Region; Country Program Coordinator for Turkey; Sector Manager for Human Development for Eastern and Central Africa; Country Director for Central America; and Director for Strategy and Operations in the Latin America and Caribbean Region. Prior to joining the Bank, Laura worked in various positions in the Italian Government and in the United Nations. Laura brings a broad set of skills including hands-on experience of country and sector operations, and a strong track record of innovation both in operational work and management style. These skills will serve us well as we continue implementing a complex modernization agenda for the institution, and broadening the range of services offered to our clients. I am delighted that she has agreed to assume this post.
I would also like to take this opportunity to extend my deep appreciation to Lisa Finneran for assisting me as Transition Director during this initial phase of my tenure and to Alex Ferguson who did double duty supporting me prior to my arrival while acting as Chief of Staff for Bob Zoellick.
Laura was selected to this position as part of the Bank policy for strategic reassignment. She will take up her position on July 23.
Jim Kim