Here we go. Campaign primaries for the next President of the World Bank have started. Jeffrey Sachs, a world-reknown economist, has unusually launched his candidature. An expert indeed of world development issues and a brilliant economist.
We should be aware however that there might be little correlation between the past CV of President-elect to the post and their performance at the World Bank. Nor with their expertise in world economic development.
Before being named the fifth World Bank president, Robert McNamara served as US Secretary of Defense during the Vietnam War. By many accounts his tenure as Secretary was terrible. He has been accused to have remained silent after realizing that US policy was wrong and that the U.S. could never win the war and silent when he left the cabinet in 1968. In the fascinating movie Fog of War, he acknowledges his mistakes in a dramatic way.
But he was by many accounts one of the best presidents the World Bank has had. Together with James Wolfensohn, a banker but hardly an economist by training who introduced the fight against corruption as a key factor to enhance capacity building across emerging countries.
Because the World Bank is an important institution for relieving world poverty, because the institution still needs to fight for improving its governance (being often accused of either excessive bureaucracy or excessive lack of delegation to poor countries), because of geopolitical issues - like the increasing strategic role that China is playing through lending at very convenient conditions to developing countries – the next (wo)man for the job will be an important one.
Traditionally the US maintains a strong hold on the final name of the person who will be elected. It is an important decision.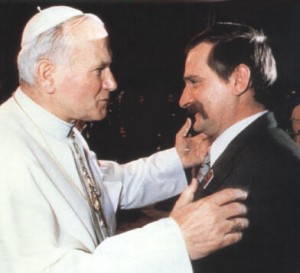 As a Roman, I have one modest suggestion. Mr. Obama, stay hungry, stay foolish. Like those Italian cardinals who in Rome, on October 1978, gave up on the 2 front-runners, both Italian. To elect, incredibly, a Polish man. A Polish man that left a trace in a world that was in a state of crisis and needed a strong spiritual leader.
Well, the economic world is NOT in a state of crisis. The Western world is. There is another world that is expanding vigorously or that tries to, and whose incredible performance and whose values need to be recognized by the international community.
Imagine the faces of all these Westerners, President Obama, when you will name an Indian woman to lead the next World Bank. An Indian woman. Coming from one of the great civilizations of the world, a nation that has always given recognition to women in society, you will have an embarassment of riches to find the right name among Indian women, born and living in India right now, with no link to any American multinational.
And by this gesture you will have made the countries of the world scream in joy and delight, like I did when I was 14 and watched on TV a Polish man telling me from a balcony, "If I will make mistakes, you will correct me". That day I knew something beautiful had occurred and I knew something even more important was going to happen. I was 14, but I was right.
Mr. Obama, marvel the world. Give us a World Bank President that will change the perception of international relations forever. Give us a sense that a strong alliance across the globe can be forged among all those democracies that are rich in history, tradition, culture. It will be, I am sure, one the most lasting legacies of your Presidency.