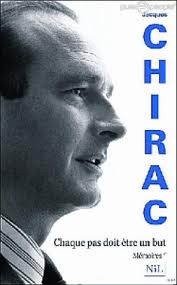 Il ne faut pas blesser une bête. On la caresse ou on la tue.
Jacques Chirac
"Former President Jacques Chirac will not only go down in history as the first French head of state since World War Two to stand trial; he'll also now be known as first to have been convicted as well. On Dec. 14, Chirac was found guilty of illegal use of taxpayer funds and abuse of public confidence while serving as the mayor of Paris in the early 1990s. … Although the two-year suspended prison sentence handed down with the ruling means the 79 year-old former president will not spend any time in jail—or suffer any other significant legal sanction for his acts … the former French President announced Thursday night he would not seek appeal, saying waning health and energy left him unable to wage another protracted legal battle. In doing so, however, Chirac staunchly reiterated his innocence in the case, and defended his honor in general."
Shall we praise the leader that submitted his fate to justice or shall we ask History to forget for ever the name of he who broke so evidently the rules of ethical behavior in politics at the highest level? We are sure everyone has a (different) opinion. But, as Chirac himself said, don't wound an animal: either kill it or caress it. So make your choice, without guilty feelings.