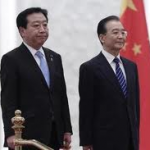 While trust in the euro does seem to be persistently lacking, other mutual trust agreements are in the process of being made. Just like France and Germany, a few decades ago,  two arch-enemies are sitting at  the table of serious monetary negotiations: China and Japan. the Wall Street Journal reports (thanks to @LemaSabachthani on Twitter for her excellent help!) that:
China and Japan announced a series of deals that promote the use of the yuan in trade and investment between the world's second- and third-largest economies, which would limit somewhat the use of the dollar in Asia, the world's fastest growing region. Specifically, the two countries agreed to promote direct yuan-yen trade, rather than converting their currencies first to dollars, and also for Japan to hold yuan in its foreign-exchange reserves, which are now largely denominated in dollars…  
How will the US react to this move? In a related WSJ article one reads that "The attempt to reduce the use of dollars in yuan-yen exchanges might hurt U.S. banks, which make money from dollar transactions, officials said. But it isn't likely to displease the U.S. government because it is in line with the goal of the Group of 20 industrial and developing nations to make the Chinese yuan more flexible, they added." The US economist Morris Goldstein added that "this is a long-distance race not a sprint". A marathon, that is.
In a marathon, often alliances are created, my expert friend Flaviano tells me, by two runners to make a third one lose rhythm and finally remain as the 2 sole contenders for victory.
We Europeans should be expert of marathons. We invented them. And we know how to win them. Sometimes it takes a major sacrifice. Like for Pheidippides, who died proclaiming "we won" and who in the words of the poet Robert Browning claimed that "Athens is saved":
So, to this day, when friend meets friend, the word of salute
 Is still "Rejoice!"—his word which brought rejoicing indeed.
 So is Pheidippides happy forever,—the noble strong man
 Who could race like a God, bear the face of a God, whom a God loved so well;
 He saw the land saved he had helped to save, and was suffered to tell
 Such tidings, yet never decline, but, gloriously as he began,
 So to end gloriously—once to shout, thereafter be mute:
 "Athens is saved!"—Pheidippides dies in the shout for his meed.
Another great marathon man was Helmut Kohl. He made a brave decision to save a united Germany when most of his voters and the Bundesbank were telling him not to unify East Germany at a 1 to 1 exchange rate between the respective currencies. He did it nonetheless. He did it to help the poorer brothers. He was re-elected against all odds by the German people that understood that fears of inflation  were minor compared to the damages of the potential fracture that could arise with neighboring East Germans. The Bundesbank President resigned. History does not remember him.
Kohl did more than one marathon.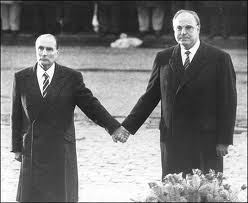 No young student in Europe should graduate without asking his/her mother or father what THIS picture means.
Mrs. Merkel is running a similar risk. The chances of losing the euro project, the geopolitical power that comes with it and the future brotherhood  of hundreds of millions of European citizens must be in her mind if she is the leader that will remain in history like her political father, Kohl. Mrs. Merkel, save Athens.