The new semi-annual ECB report, the Survey On The Access to Finance of Small and Medium-Sized Enterprises in the Euro Area - October 2011 to March 2012 – is out.
Just take a peek.
It divided problems for SMEs and large firms into:
a) problems of lack of reforms (regulation);
b) problems of competitiveness (cost of labor, competition)
c) problems of productivity (availability of skilled staff)
d) problems of credit crunch (access to finance)
e) problems of aggregate demand (availability of customers).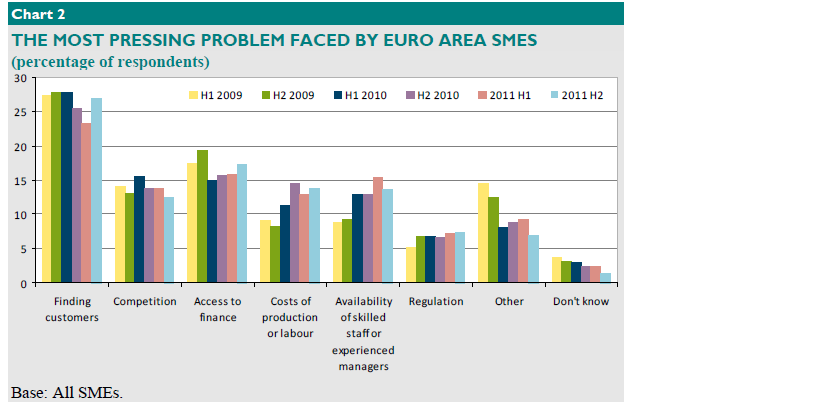 As you can see the ECB report clearly points to the causes of the current crisis: lack of demand. That hits European small firms, particularly in the construction sector. A problem more important even than the dramatic one of the lack of access to finance over which the report obviously dwells on.
If you look at large firms the picture changes little, if only to give more weight to productivity issues and long-term reforms related to innovation and human capital: lack of skilled staff is more relevant for large firms but aggregate demand is biting here too.
There are no available customers. For small firms especially.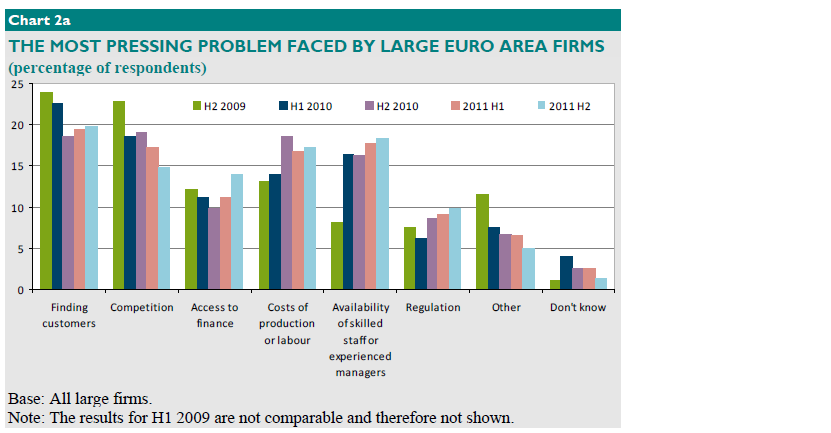 So? What do we do?
Is the European construction sector in a state of crisis? Please enchanted leaders of sleeping Europe, wake up, boost aggregate demand through greater spending on maintenance of public buildings, schools, hospitals, parks, prisons! Launch, each one of you, a Continental Maintenance Investment of 1% of your GDP, reserving – what's more – those tenders only to small firms by keeping them under the EU threshold!
You, the public sector, you are the only available customer for firms right now. By boosting European demand you will boost stability in public accounts and the collapse of spreads. Wake up Europe.