I would like to draw your attention toward the evolution of labor cost per unit of output in the monetary union called United States of America (second graph) and the one called Disunited States of Europe (first one). Don't they look similar?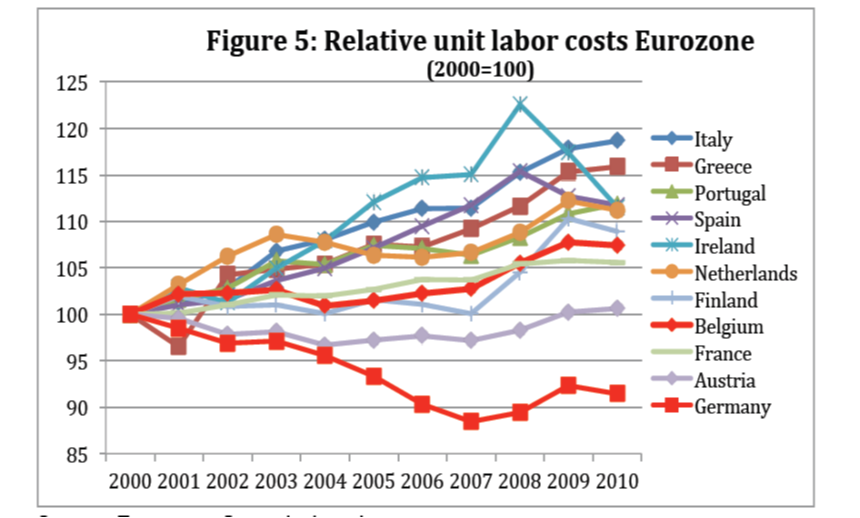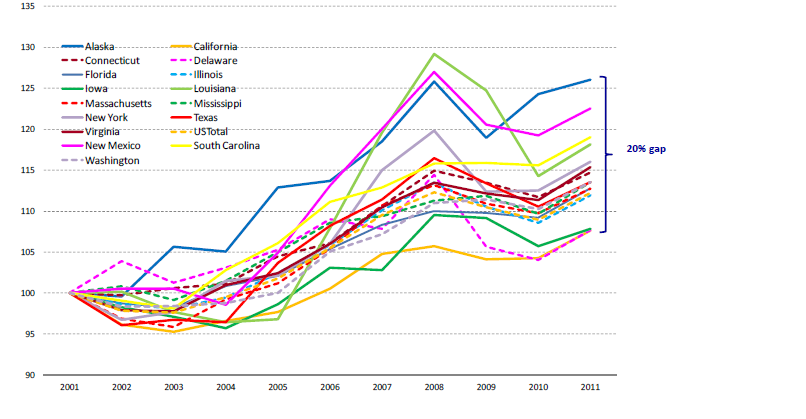 Germany like California and Alaska like Italy? Well not weather-like, but competitiveness-like. How come these big differences in labor costs across states seem to drive "exit spreads" in Europe and not in the US while both have a monetary union?
Is it because the US have a banking union? Come on, try better. Is it because the US have a central bank that buys bonds in the market or because there are Union bonds in the US? Oh, let me tell you, nobody would have doubted of the impossibility of exit of less competitive US States even when there were no Union bonds and no Fed (XIX° century).
Actually this is not really true. Doubts in the USA about exit arose, especially during the split that led to the Civil war. Which proves that what drives a lack of concern for exit is … lack of conflict, Union. So the true question is… how to create Union in a union.
Oh, tough question. I guess each one should look into his own backyard and ponder how his marriage worked over its difficulties, or how a father worked out his disagreements with his children, or how a friendship lasted 50 years.
I guess there are 3 ingredients to that: mutual undestanding, help and support in times of hardship, and a somewhat shared view of life and of relevant values.
Take a union of States and create slowly over time  a bond. Yes a Union Bond, one that is made of mutual understanding, help and support in times of harship, shared national values, and you will get your Union, with a capital U.
The graph below shows what is a Union: the blue dots, where richer US states transfer permanently resources to poorer states. The red dots, are a union: EU states as diverse as the US ones in terms of income but with no intention of sharing risks (thanks to Antonio Foglia for the graph).
That simple. Now, Europe, what are you going to do about it?