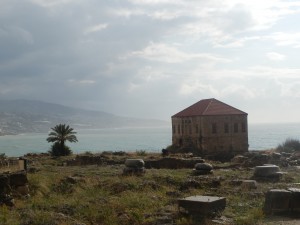 Here am I in Beirut, Lebanon.
Adel, my driver who takes me to beautiful Byblos (picture), reminds me of the distractions of the West which has forgotten that this part of the world requires investments and jobs to grow, solidly anchored to that ally that would be willing to support it. "The Chinese sell us goods at low prices, and we like that, they are steadily buying stocks and shares in the country. They are closer."
The winds that come from Syria agitate the land of the Cedar tree, and an ancestral warning is rising in everyone's thoughts, preparing for yet another war, another devastation of the
skyline of Beirut.
On Sunday many families find refuge and relax in the mountains around Beirut and rich Downtown is empty. Military people, small children ready to sing in the desert square de l'Etoile and escorted politicians compose an absurd painting or a Costa Gravas movie, where gestures are slowed down waiting for the inevitable that does not arrive. The songs coming out of the Orthodox church compete for attention with the beat of the nearby passing of small, agile, war tanks.
Construction is key here. The old-looking "Coming soon" sign for a new building that will or will never be built speaks for the city that in a few years has reconstructed the road to the airport bombed by the Israelis while keeping in the middle of its rich Western malls much richer carcasses of older buildings destroyed by bullets or bombs, proudly standing witnesses that warn bystanders and keep the memory of those who were here once.
My favorite picture (see below post in Italian) is the one of the reader, whose building soon to be demolished looks at the Phoenicia 5 star hotel. It is a fair competition, held while buses full of young people holding the poster of Arafat pass near them headed in no known direction.